Customised Training
Before embarking on a training programme with Aileron Wellness, a fitness and health consultation will be arranged between you and your trainer for him to understand your concerns and wellness goals. To help your trainer understand your anatomy in detail so as to prescribe an appropriate, customised training programme, you will undergo our proprietary Aileron Wellness Fitness Assessment (ALFA test), which involves an in-depth analysis of your existing movement and physical limitations.
Depending on your needs, our programmes and services include:
Personal Training for Executives (PTE)
The sedentary lifestyles of many corporate professionals and executives can result in chronic health issues. Understanding this unhealthy trend that is surfacing in our society, Aileron Wellness has a training programme targetted at the white-collared to prevent and/or address office-related health problems. From building strength in your lower back to prevent pain (which arises from sitting for long periods of time) to keeping your stress at bay and dishing nutritional advice to keep your immunity strong, this programme empowers you to face the multi-faceted challenges of corporate life.
Functional Training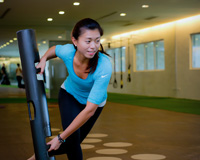 As its name suggests, Functional Training involves exercises that train the body for the activities performed in daily life. This can apply to athletes, fitness enthusiasts or even people looking to shed some weight. At Aileron Wellness, our fitness professionals are trained to incorporate the following highly functional tools such as TRX, ViPR, 3 Kick and Stroops, to name a few, into training programmes. To read more about these tools, please click here.
Movement-based Training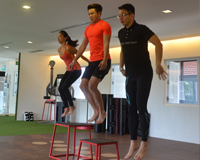 Movement-based training is more than just functional training. When people start to specialise, we generalise. To be a complete mover, you should not feel any restrictions in however you move. The better you move, the more you will start to play, explore and learn how to react to situations. This is essential to athletes in improving their sports performance and even individuals in their everyday activities. With regular movement-based training, you will experience:
Enhanced proprioception and body awareness
Increased mobility, flexibility, strength
More aware of your body's abilities
Ability to stretch, relax and utilise your muscles
Improved posture
Strengthening and Conditioning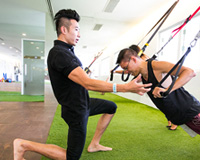 Strengthening and conditioning are integral parts of training not just for athletes, but also for any individual. It is an all-round workout that benefits the entire body, combining muscular endurance, muscular strength as well as cardiovascular strength. It improves sports performance and for non-athletes, it helps them to achieve their fitness goals. At Aileron Wellness, strength and conditioning are integrated into programmes in a way that prepares the client for the competition and remains as much as possible, injury free, till the body reaches his/her performance peak.
Rehabilitation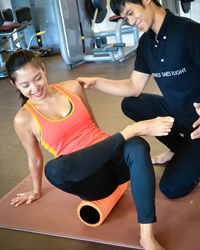 With a deep understanding that each individual's anatomy and injuries is different, our rehab trainers design programmes based on different schools of thought and methodologies to work with different individuals in restoring functionality. Be it chronic or post-operation issues, musculoskeletal or neuromuscular, our rehab trainers always have made great successes in enabling the client to ultimately be pain- and injury-free.
FST (Fascial Stretch Therapy)
Gain instant mobility and do it pain-free with Fascia Stretch Therapy. Release trigger points, lengthen soft tissues and increase joint space at once. We maximise this highly-effective and renowned method via a double team full body stretch for double the results.
DNS (Dynamic Neuromuscular Stabilization)
As a cutting-edge new manual rehabilitative approach, DNS has the ability to activate motor control, a discipline which typical rehabilitative methods have seen limited success. By activating the "integrated stabilising system", DNS can help achieve exciting levels of improved function and performance. As an overall strategy rather than just a technique, it has a good understanding of the neurophysiological principles of the locomotor system function that includes assessment, treatment, exercise and lifetime strategy.
Trigger Point Performance Therapy (TPPT)
Muscles knots and tension are present in almost every individual. Train with Singapore's only two Master Trainers in Trigger Point Performance Therapy, the only ones in Singapore, and start managing pain effectively. Our clients see instant results with the TPPT methodology. TPPT also keeps frozen shoulders, tight hip flexors or any other myofascial issues at bay.
Through Myofascial Compression Techniques (MCT), a revolutionary form of self-myofascial release that systematically restores tissue elasticity, fluidity, and function resulting in pain reduction, injury prevention, and performance enhancement, we help to enable your body to be at the optimum length-tension relationship, so that you will be able to perform to the best of your ability.
Traditional massage has been proven to create pliability within the muscles of the body. However, the effects it has on your muscles and soft tissues are limited and superficial. TPPT goes to the root of the problem; not only does it iron out the adhesion (knots) in your muscles and soft tissues, it also brings better blood circulation and more health to the muscle groups, so that you can experience an increase in tissue extensibility and greater flexibility.
Manual Therapy
Increasingly, for patients undergoing rehabilitation, there's a realisation that physical exercises are not the only means to restore a body's functions. Hence, Aileron Wellness has introduced Manual Therapy to our suite of services to complement our personal training programmes. Manual Therapy, a medically-recognised practice, is a form of manipulation and mobilisation of various tissues of the body – including the musculo-skeletal system (fascia, muscles, tendons, ligaments and bones), visceral system (organs), nervous system (nerves) and cranium (skull and facial bones). Specific techniques are applied by our therapist to alleviate pain, spasm, tension, improve posture and athletic performance, and even to increase mobility.
Sports-focused training
Golf Fitness Conditioning

Aileron Wellness' Golf Specialists work on the precision movement of the golfer's golf swing by addressing the deficiency of the whole kinetic chain movement of the swing that transits through the dynamic core to the distal limbs and the golf club.
The 3 main areas that the Specialists will work on are:
Mobility and Separation
The ability to separate the T-spine and hips rotation will produce an optimum X-factor that will maximise the coil during the backswing and transit that power into a powerful downswing. The mobility of the golfers is enhanced through a series of releasing techniques, mobilisers and body awareness.
Stability
The dynamic stability of the golf swing is vital to the ability to produce optimum movement and maximise power within the stability threshold. The target structure of the golf swing is trained to maximise the body's ability to decelerate the rotational forces produced by the golf swing to stabilise the golfers and decrease the chances of injury.
Power
The programme is designed to develop speed and power within the given speed of the full swing. Unlike traditional resistance training, our Golf Specialists use various functional equipment that target different aspects of the golf swing.
Swimming
Swimming is a non-impactful sport for people of all shapes, sizes and fitness levels and even more so for those with mobility issues or arthritis. The buoyancy of water allows you to perform exercises you're less likely to be able to do on land, while the added resistance of the water on your muscles conditions your entire body. Aileron Wellness offers one-on-one swim coaching as well as buddy swim coaching instructed by certified trainers. Benefits of swimming include:
Weight loss
Building muscular endurance
Improving strength and flexibility
Improving cardiovascular strength
Muscles Rehabilitation
Promoting muscular balance
Running Conditioning
Evidently, with the increasing number of running events organised in Singapore, running is fast gaining popularity here. For running enthusiasts, especially long-distance ones, it's important to develop good awareness of the biomechanics of your body during the run so that you can fully utilise it and also help it recover faster. Under our trainers' guidance, your running posture, and running and landing gait will be improved. Tight muscles impeding your performance will be addressed and the insight to your running style will help you clock better results.
Sports Climbing
Wouldn't it be satisfying if we could climb up walls quickly like Spider-Man? While that is farfetched, there are techniques you can adopt to improve your performance in recreational climbing. By understanding how to harness the ability of your muscles required in this sport through our training programme, you can boost your endurance and strength levels to climb with greater ease and agility.
Kickboxing
Aileron Wellness' kickboxing training programme blends the best practices of kick boxing and muay thai under the instructions of our IKF and THUMP certified instructors. Unlike most other kick boxing classes, our training programme combines bodyweight exercises, kickboxing moves, pad work, strengthening and conditioning training methods using a variety of different training tools that will challenge you both mentally and physically. Other benefits of this training are:
Reduces stress and boosts mood - a high-energy work out helps your body release endorphins which will boost your mood and relieve any built-up frustration and stress, allowing you stay positive even hours after the workout.
Weight management - aside from weight loss and shaping up, the high amount of calories burnt in one session is sure to help you get toned and up your metabolism.
Better posture – this work out will challenge many muscle groups and help to build up your core muscles, especially the abdomen.
Full body workout – working your body from head to toe, the session will improve your neuromuscular efficiency.
Improved core strength – once the core is strengthened, many common problems in the modern society such as backaches will be alleviated.
Private Fitness Class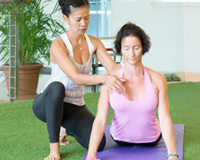 Fitness classes are useful modules to complement your personal training. You can enjoy these fitness classes under a one-to-one setting, which allows the trainer to give you undivided attention and a programme tailored just for you. Aileron Wellness offers Private Fitness Classes for:
Yoga
Yoga, with a history of 5,000 years, has been widely practised for the wide range of benefits it brings to body and mind. The physical movement strengthens and conditions the body, while the breathing techniques bring calm to the mind, holistically benefitting the practitioner. Aileron Wellness infuses simple and effective meditation techniques into our lesson to help students enjoy a higher sense of calm in their practice.
Regular practice of yoga helps to (but not limited to):
Improve flexibility and movement
Encourage better posture
Delay ageing
Decrease stress levels
Enhance mental concentration
Increase physical strength and muscle toning
Pilates
This physical fitness system was developed with the aim of conditioning the body for strength, endurance in the legs, abdominals, arms, hips and back. Pilates emphasises on spinal and pelvic alignment, developing core strength and improving coordination and balance. Constant practise of Pilates helps one to become stronger, leaner and perform daily activities with grace and ease.
Bridal Fitness Class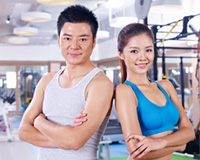 If you're getting married soon and wish to get into better shape or tone your body, then this is the right programme for you. Our fitness professionals are certified and experienced in training men and women alike, taking into consideration their fitness agendas prior to their big day. Assessment and analysis will be done beforehand and a programme will be designed, helping you to achieve your fitness goals in the given time frame as much as possible. At Aileron Wellness, we aim to propel you to greater heights in aesthetics and health, helping you look and feel your best on your big day.
Post-natal Programmes
Power Plate® Post-natal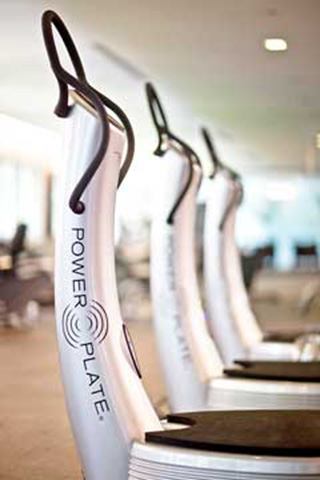 This programme is designed to offer post-natal exercise options vital to the health of new mums. Weakened pelvic floors and lower abdominal muscles are some of the problems many mums face post-delivery, and the Power Plate will help them regain their figures and stay active by alleviating those problems through strengthening their cores.

Back problems are also common in new mums. Stretching and performing adequate post-natal exercises on the Power Plate restores confidence by increasing circulation, tightening the pelvic floor and abdominal muscles, improving posture, accelerating fat loss, as well as providing relaxation.

Celebrity mums who undergo post-natal exercises and conditioning with the Power Plate include Victoria Beckham, Heidi Klum, Elle MacPherson and Dannii Minogue.

Get in touch with our certified post-natal specialist to get started on your post-natal recovery programme.
CORE RESTORETM Post-natal
This is a class workout that is specially designed to create exercise options for new mums. This is a highly beneficial post-natal programme that focuses on helping you restore your core, promote post-natal fat loss and resolve leaky pelvic floor issues. Every pregnancy is different and your body responds and changes differently. Engaging in the wrong exercises will do more damage to your already vulnerable post-natal body than help it recover timely. It is therefore essential to undergo the right exercises that are adequately designed for different post-natal bodies. A 45-min session with us will get you started working safely back towards your pre-pregnancy body!
For more information on CORE RESTORETM Post-natal, visit mumsinsync.com