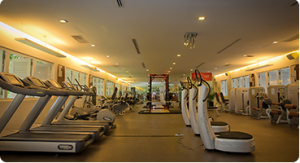 The Workground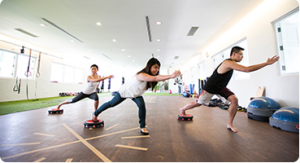 The Playground
Aileron Wellness houses two spacious spaces for workouts of different purposes. By bringing together 2 state-of-the-art spaces under one roof, Aileron Wellness can help our clients to feel better and hence empowered for everyday living.
The Workground, akin to a conventional gym set up with heavy-weight equipment. Here, not only will you find familiar machines like the treadmill and dumbbells, but also our state-of-the-art Power Plate and Half Rack, one of the few gyms in Singapore that offers them. The Workground serves to build up the fundamental major muscle groups of the body and once the foundation is set, the client is ready to progress to The Playground.
On the other end is "The Playground", a sprawling field dressed by training zones and synthetic grass turf imported from different parts of the world. Here, our trainees run wild and free, barefooted. Ditching the shoes gives us a chance to be aware of our feet movement which we often neglect, and also to connect with the Earth once again. Clients will use functional training tools like ViPRs, Sandbells, Stroops and so on to strengthen the multitude of body movements. A small space is also demarcated for rehabilitation training (using tools such as Trigger Point, Kinesio Tape) to help clients recover from their injuries or from workouts.
The Playground is also where we hold our corporate teambuilding and wellness activities.
These two contrasting spaces allow our trainers to easily progress and regress training programmes according to the physical condition of our clients.