Upcoming Events
Triggerpoint Foam Rolling: Principles & Practices (Level 1) Certification Workshop
12 July 2015, 9am - 1pm
Self-myofascial release (SMR) has been shown to relieve muscle and joint pains and improve flexibility and range of motion. In this course, you will:
Understand the Fundamentals of Myofascia
Review the latest SMR research
Learn about the Trigger Point Performance SMR movement philosophy using the GRID foam roller
Participants walk away with practical knowledge and hands-on experience in coaching and cueing movements that can be scaled to all-levels of general health and athletic clients for pre- and post-workout foam rolling.
Venue: Aileron Wellness
Presenters: Master Trainers Sufian Yusof & Dominic Lim
Price per pax: $290 (inclusive of TriggerPoint GRID Foam Roller and training manual)
Register by: 5 July 2015
Download brochure
Read more
Register
Myofascial Compression Techniques: Evolution Of Foam Rolling (Level 2) Certification Workshop
23 Aug 2015, 9am - 5pm
Take your knowledge in Myofascial Compression Techniques (MCT) beyond foam rolling. This brand new Level 2 course teaches you to utilise the TriggerPoint products designed to increase mobility and improve performance with an overall improvement on one's biomechanics. This 8-hour hands on training focuses not only the science behind of myofascial compression but also the practical application of trigger point education backed by scientific research. You will learn:

The science behind myofascial compression
Myofascial Compression Technique
Ultimate 6 areas and trigger points that matters in performance and pain-management
Tool-usage and timing of release
Structured programme in myofascial compression
Assessment of manipulation utilised and how it can be helpful
You will leave this course with an in-depth knowledge of how to use MCT in order to increase the performance and training results that you and your clients get from training.
Venue: Aileron Wellness
Price: $350/pax
Presenter: Master Trainer Poh Ying Bin
Register by: 16 Aug 2015
Download brochure
Read more
Register
Fast & Fabulous: The Essential Workout for an F1 Driver
12 Sep 2015, 11 am - 12.15 pm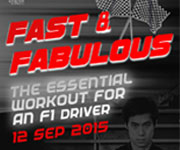 They may have their backs stuck to their car seat when they race, but did you know that F1 drivers have to undergo rigorous fitness regimes too? Yes, when people like Jenson Button and Lewis Hamilton steer their metal carriage, they can burn more than 1,000 calories and sweat buckets in just one race, and not to mention the psychological stress that they have to cope with. Staying fit is crucial to their performance on the roads and, of course, for looking good for the camera.
What kind of workouts do they do, we hear you ask. Join Aileron Wellness' one-of-a-kind event, Fast & Fabulous: The Essential Workout for an F1 Driver, and dig into a competitive driver's workout.
$45/pax
@ Aileron Wellness
Download brochure
Register