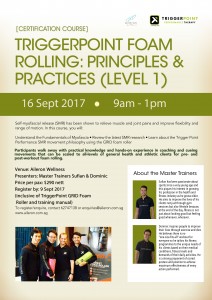 Self-myofascial release (SMR) has been shown to relieve muscle and joint pains and improve flexibility and range of motion. In this course, you will:
Understand the fundamentals of self-care through the use of foam rolling
Understand the anatomical and biomechanical benefits for self -or client-care
Be able to adopt an easy-to-implement method designed specifically for foam rolling
Participants walk away with practical knowledge and hands-on experience in coaching and cueing movements that can be scaled to all-levels of general health and athletic clients for pre- and post-workout foam rolling.
The concepts covered in the course are:
Definition of foam rolling along with the history of foam rolling
The contraindications associated with foam rolling
Foundations of self-myofascial release
The terminology associated with self-myofascial release
Fascia
Myofascia
Self-Myofascial Release

Trigger Points

Foam Rolling

Anatomical and biomechanical benefits of foam rolling

TriggerPoint coaching and cueing techniques

Foam rolling methods appropriate for specific releases along the kinetic chain

The methods of foam rolling for population-specific programming

Pre-Gen

Re-Gen

General Wellness
Conducted by: Master Trainers Sufian Yusof and Dominic Lim
Course fee : $290 per pax (inclusive of TriggerPoint GRID Foam Roller and training manual)
Register by: 9 Sept 2017
•CECs: ACE – .4 CECs, NASM – .4 CEUS, AFAA – 3.4 CEUs, CanFitPro (FIS, PTS) – 2 CECs, BOC – 3.5 CEUs
To enquire or register, contact us.
Download our e-brochure here.