THE AILERON STORY – Behind our Rebranding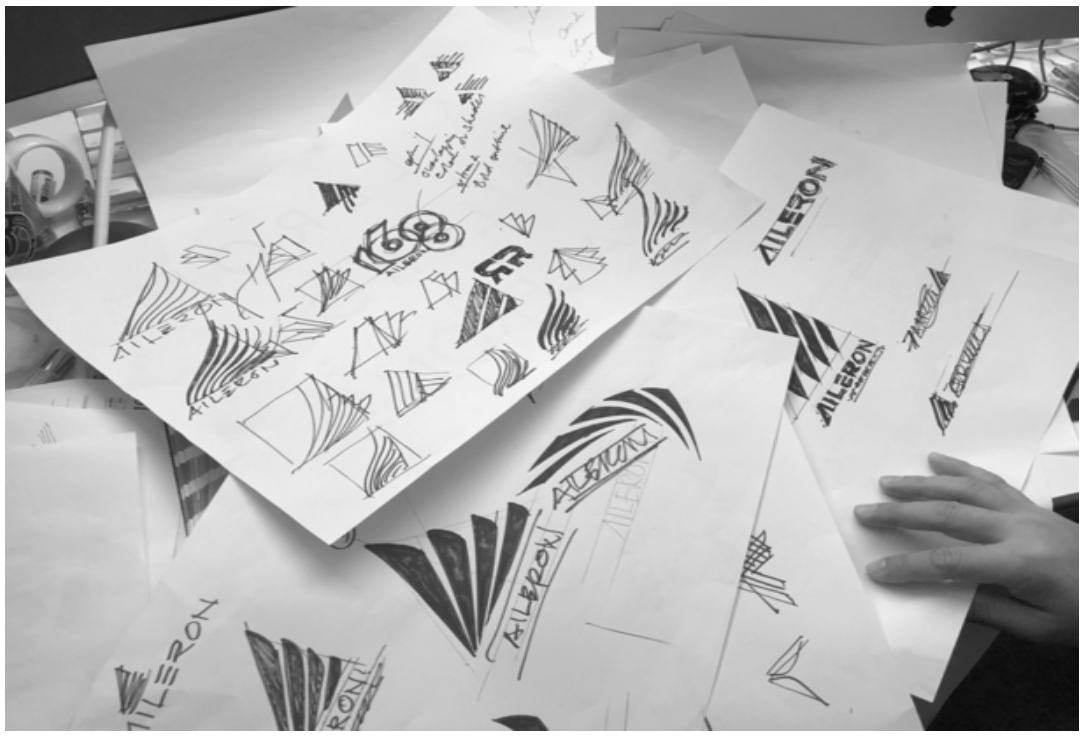 We launched Aileron Wellness in 2010 with a simple but powerful vision: To make a positive dent in the industry as Singapore's most trusted knowledge-driven gym with provision of the highest level of wellness training and education to our clients. 
Why did we embark on a rebranding journey?
Fast forward 9 years now, Aileron Wellness is no longer just a gym, but a holistic health and wellness company. We've grown our academy arm, entered new markets, created strategic partnerships with health food companies and made household health and wellness devices available for everyone. In 2018, after amassing more than 8 years of experience in the Singapore premium fitness market, we have decided to dive into China as the first destination outside Singapore with the possibility of unprecedented opportunities. We created Aileron Wellness Shanghai , well-poised and set to raise the quality of health, fitness & wellness training in China with the aim to fundamentally change the way Chinese people get fit through a knowledge-driven approach. 
It became apparent that our current branding is no longer adequate for the company's expanding range of new services and markets. This is especially so for fiercely competitive markets like China where we see two fitness clubs opening every hour. We need an overall rebranding for a stronger, more defined brand.
  
Defining The Brand
We partnered Design Objectives to curate our new brand. However, one big question remains: What is Aileron Wellness' identity and what do we stand for as a company? 
Our Core Values shall steer us in the right direction:
Diligence & Humility in learning

 

Positivity in Attitude
Integrity in Teaching
Consistency in Quality
Influential in Living
Despite stiffer competition and a more turbulent market, our beliefs and philosophies remain unchanged. The foundation of our success lies in having professional ethics and attitude  towards learning and education in all our trainers. With humility, we learn, and with open hearts, we spread our knowledge to our valued clients and associates. When we continue to strive hard, we help ourselves and all around us live well, and we shall succeed, emerging as the best in the industry.
Origins of our Name and Symbol
The 'Aileron' or French for "Little Wing" is a humble component in the majestic aircraft that's one of the greatest inventions of our time. 
Metaphorically speaking, the aircraft resembles a close representation of us (me and you), travelling relentlessly from point A to point B. The majestic wings serve it's "pitching" purpose, allowing the aircraft to be lifted off and take flight; and like the wings of the aircraft, it symbolizes the career of an individual. When our wings are well spread, we are soaring with our career. 
The Tail and the rudder of the aircraft yaws it through stormy weathers, giving it control and backing the pilot up, a similar representation to  how our assets back us up in times of need. Both the majestic wings and tail are what can be clearly depicted and illustrated but what really gives rise to the final and most critical maneuverism of the aircraft – Rolling, is the aileron. The humble "aileron" is embedded within the wings and cannot be seen by the eye. When adjusted, the plane tilts and gives directional changes to the plane. Like health and wellness, we cannot see it in us readily, nor does the society we live in aspires us to spur our health and wellness condition by nautical notches and hence, in Aileron Wellness, we hope to reinstate the importance of living well and living pain-free sustainably. 
In the same spirit, our motto, "Fitness Takes Flight" is an extrapolation of the metaphor. Armed with a sincere interest to help our clients develop a lifestyle that benefits their overall well-being, our client education programmes range from motion to nutrition, mental to environmental. We inspire and empower individuals to discover the best years in their lives by living healthy and well.
The LOGO MARK – A Symbol of Wing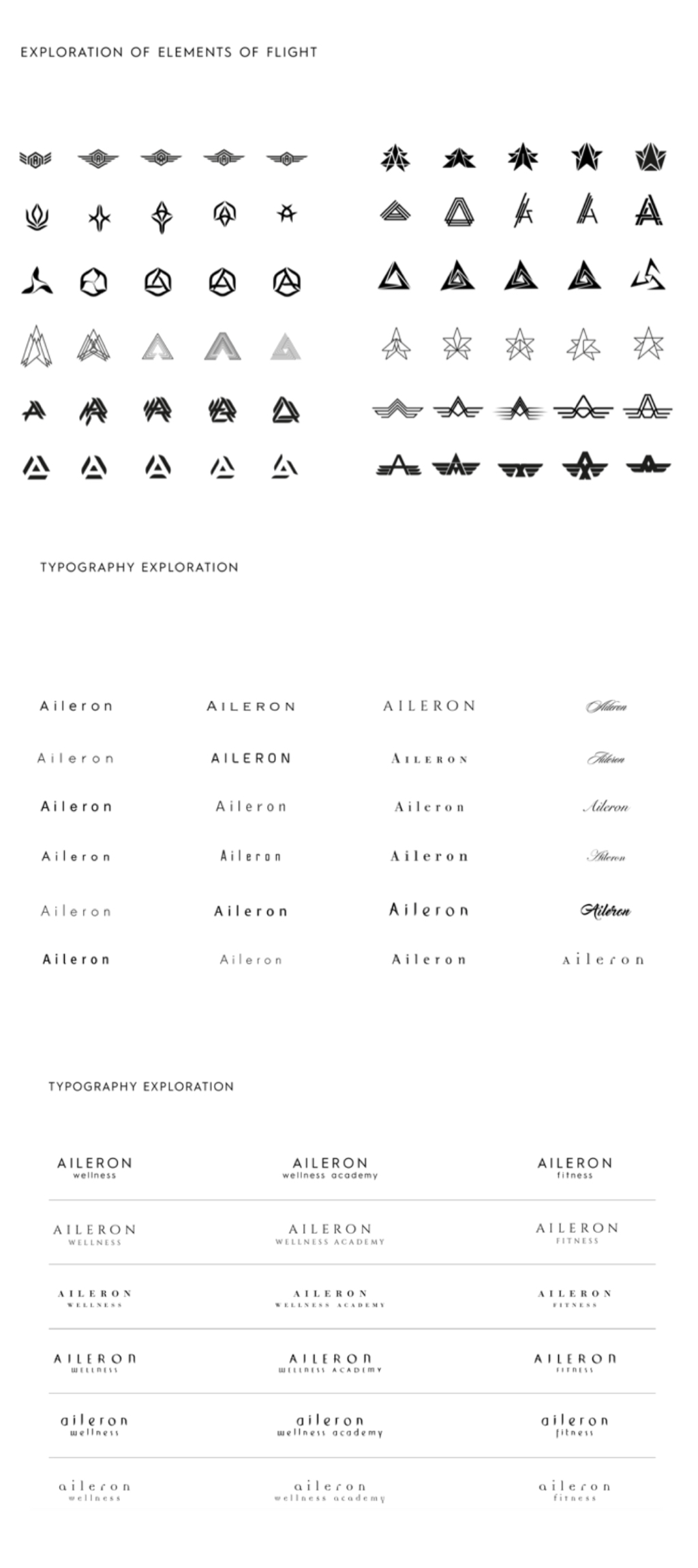 We devoted a considerable amount of time to explore the numerous shapes, angle, and styles of logos to appropriately represent us. Aside from the design of the logo, we placed an equal emphasis on the typography in the name that we take pride in, Aileron Wellness. The different font, sizes, texture and thickness were used with the intention in mind to match the logo as one. 
A new symbol of wing in fitness can only be symbolised by the most refined and carefully crafted form. The bilateral asymmetry has been emphasised to create a sense of movement and strong directional visual impact. 
The logo mark represents the very best of who we are and what we do. Carefully and diligently applied with consistency, it will become a mark of precision training wing , that people will talk about.
A bespoke Font / Logotype was also chosen to signify our uniqueness and to create a geometrically more structured and pleasing overall look.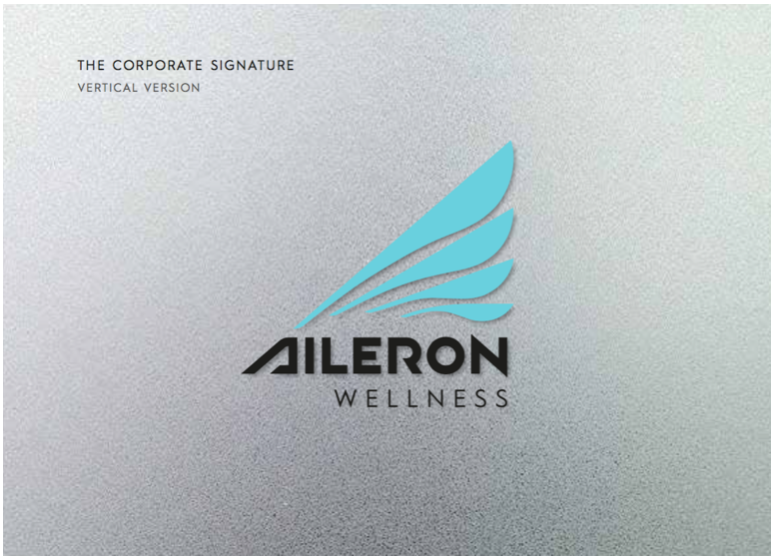 And there we have it, our Corporate Signature. 
Future Visions
The fundamental goal in developing a new identity is to align all the Aileron companies under one common visual identity and to move the company forward into a stronger, and even more valuable positioning. A visual identity that captures the key brand qualities of professionalism, consistency and humility have been portrayed into a new design, reminiscent of a wing; symbolizing flight, freedom, movement, vitality, and energy. The bespoke font is unique, timeless and elegant. The "openness" of the design allows the new brand identity to fly untethered.
We have a grand vision for Aileron Wellness as a competitive health and wellness company on the Global stage. It will be a challenging journey ahead, but we're confident our fundamental core values and new identity will make us soar higher and farther.  
"Nothing surely is so potent as a law that may not be disobeyed. It has the force of the water drop that hollows the stone. A small daily task, if it be really daily, will beat the labours of a spasmodic Hercules. Day by day what you do is who you become."
Managing Director, Keith Tan