June Holidays Special – Make Family Time Active Time!

It's the middle of the June holidays and you're probably running out of things to do with your family. Hopefully you've managed to catch the good ones, like the Snoopy Run or the Nerf Games at Vivocity. You know your son will love it!
Here are a few more you can include in your plans for the rest of the month!
Hike at The Southern Ridges
Just off Sentosa from Mount Faber Park, you can start or end your sentosa journey here. For the nature lover, bird watcher, hiker and bridge walker, both of the above would stand a chance to catch your interest. The Henderson Waves Bridge would definitely tickle your kid's sense. Do bring enough water and healthy snacks!
A tip – Go old school! Give your kid a disposable camera and watch him fall in love with it, the perspective from his height is remarkably different. Don't let him run though, or there goes the birds..
GoGreen Cycle
Did you know there are bike rental services in Sentosa? Did you know that there are cycling trails available? Come down to The Segway Counters at each Station and Siloso to rent a bike and get a copy of the Cycling Trails Map!
A tip – Make a race of it every once in a while!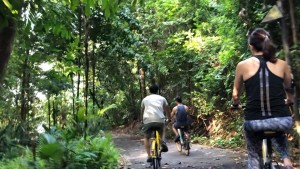 Kidz Sports @ Kidzania
Trampolines, Martial Arts, a Tic-Tac-Toe obstacle course, families can enjoy sports such as soccer, tennis and many more. And oh, get 15% off if you visit in sportswear!
A tip – If there's any energy left, bring a ball or Frisbee to the beach to continue the sporting fun in the warm evening sun
Mega Adventure Park
Ropes, Zip lines, Climbs and Falls, these are what Mega Adventure Park consists of. The MegaZip  is a 450m zipline reaching speeds of 60kmph, the MegaClimb a 36 obstacle treetop ropes course, MegaJump a 15m Freefall simulator and MegaWall a rock climbing wall. And all existing over the scenic Sentosa's Island Life. Here's to warm sweats, cold sweats and conquering fear!
A tip – Plan your route on the rock climbing wall on the ground, not 10m off the ground while you're holding on for dear life.

Scavenger Hunt
A seashell. A yellow towel. 2 different  birds. 2 bridges. 3 different leaves. 3 hotels that have 'R' in their name.
Make things up, then send them on their way with their phones to go in search of these items (with an accompanying adult of course.) See who comes back with the most photos of relevant items!
A tip – Walking in the sand and uphill (imbiah & siloso) burns more calories, plan those in!
Try one or all for the rest holidays! Get them moving, get yourself moving before it's all back to desk and chairs. Have fun, build bonds, get happy! And oh, keep the phones and tablets away..
Lee Junxian is a Rehabilitation & Transformation Specialist with Aileron Wellness. He is also an Educator with Aileron Wellness Academy. Read more about Jun Xian here.