How I work with a client with knee pain? Check the hips and knees.
The knee joint is one of those joints where an injury at that site gets really frustrating to get rid off because there is nothing you can do to get rid of the pain. Despite the endless massages, stretches and etc, it does not seem to go away at all. However, something can be done to resolve it.
Cedric has been a client of mine for a couple of years now. A quick flashback to 2 years ago, he injured his knee while playing football recreationally on a weekly basis. Before any training prescription, I advised him to make a visit to a specialist clinic for an MRI scan to be conducted. The result showed that he had a slight tear on his meniscus. Fortunately, all his other important structures such as his ligaments were all intact. In addition, his meniscus tear does not really warrant a surgery, unlike a more serious bucket handle tear. Nevertheless, coming back from the injury would be a tough and long journey.
In all knee injuries or discomfort, the two most important joints to look at will be the ankles and hips because the movement of the knees is governed by the congruency of these two joints move. The body moves as a whole entity and that every joint in the body has an influence either directly or indirectly on other joints. From the assessment on Cedric, I looked at how his ankles and hips move in relation to the knee. Using that information, I built a base with an intent to improve his mobility and strength over time. It was a long progress with many ups and downs where he had to learn how to do the right joints movement. Eventually, he got stronger and managed to fight off the constant pain he always felt when he is enjoying his favorite sport. Now, Cedric can now continue his love for football pain-free. Read more about his testimonials below.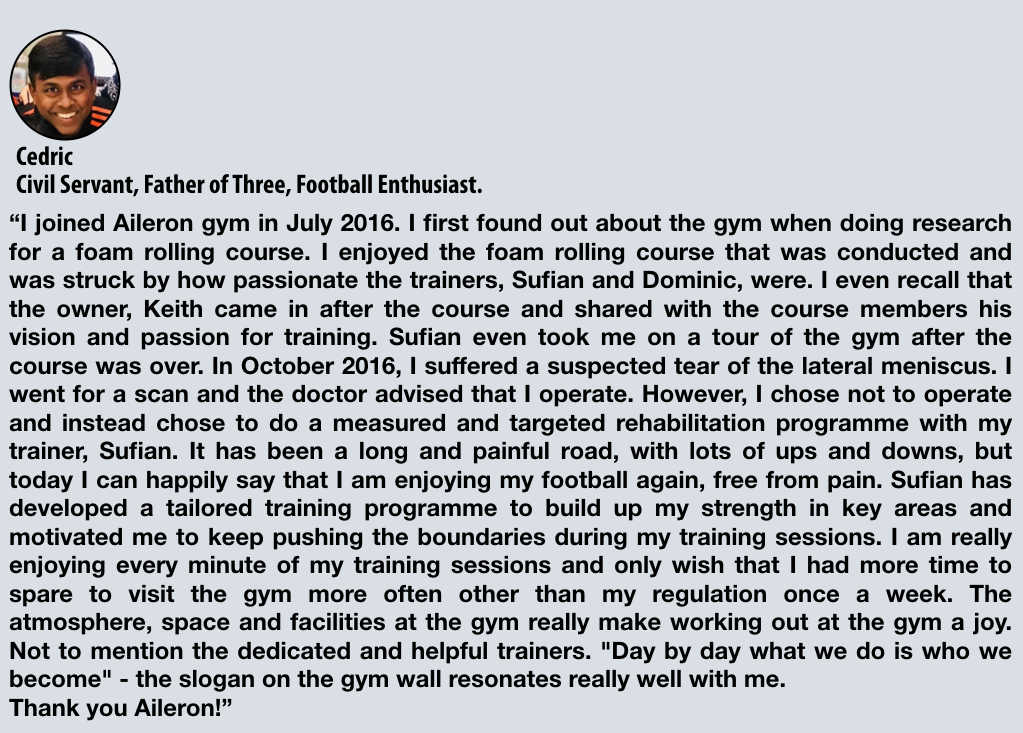 To find out more about this topic, contact us at 6274 7138 or email enquiries@aileron.com.sg.
Tell me more about  Sufian Yusof >>