Riesal Idries
Manual Therapist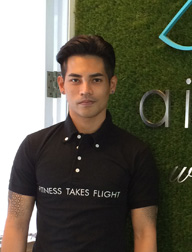 Riesal aspires to bridge the world of fitness and the world of manual therapy. He specialises in myofascial release therapy and soft tissue manipulation. He studies from many great masters such as John Barnes, Thomas Myers, Dr Andreo Spina, Peter Schwind and Hugh Milne. He hopes to integrate various modalities into his practice to ensure that his treatment is effective and beneficial. His passion in learning about the body and different therapy modalities comes from his deep rooted belief that the body should be regarded a whole unit, not a collection of units. Riesal is also a certified NASM personal trainer and a yoga registered teacher. From a competitive dragonboat rower back in university days, he is now an avid practitioner of yoga and taiqigong.
Specialisations
Soft tissue (fascia, muscles, nerves, visceral) manipulation
Craniosacral therapy
Reiki (Usui)
Certifications
Manual Therapy
John Barnes' Myofascial Release (MFR)

Advanced level practitioner

Thomas Myers' Anatomy Trains

Structural Bodywork
Fascial Dissection

The Barral Institute's Visceral Manipulation (VM)

VM1: The Abdomen 1
VM2: The Abdomen 2
VM3: The Pelvis
LT1: Listening Technique 1

The Barral Institute's Neural Manipulation (NM)

NM1: An Integrative Approach to Trauma
NM2: Peripheral Nerve Manipulation: Upper Body
NM3: Peripheral Nerve Manipulation: Lower Body
NM4: Brain and Cranial Nerve Manipulation NM4

Fascial Stretch Therapy (FST) Level 2
Peter Schwind's Fascial and Membrane Technique (FMT)

FMTT: Thorax, Abdomen and Pelvis

Functional Range Release (FR©) techniques

Spine, Upper and Lower Limbs

Kinesio Taping - Certified Kinesio Taping Practitioner (CKTP)
The Milne Institute's Visionary Craniosacral Work

C1: The Foundation Cranial Class
C2: Coupled Holds, Sacral Work and Unwinding

The Upledger Institute's CranioSacral Therapy (CST)

CST1: CranioSacral Therapy 1

Neurosomatics Therapy (NST)
Reiki (Usui Method) Level 2
Selective Functional Movement Assessment (SFMA)
SOHA Institute's Basic Traditional Chinese Massage therapy by Singapore Workforce Skills Qualifications (#130000000485544)
Tecnica Gavilan (Instrument Assisted Soft Tissue Manipulation)
Fitness/Movement
Certified Personal Trainer by National Academy of Sports Medicine (NASM) (#1460076)
Yoga Alliance (USA) Registered Yoga Teacher (RYT 200) (Registry ID: 128658)
Completed 200-hour Ashtanga Yoga by Tirisula Yoga (Singapore) (Yoga Vedanta Training Academy)
Certified Functional Movement Systems (FMS) Level 1 specialist
Completion of Functional Movement Screening (FMS) Level 2
Certified TRX Suspension Trainer
Certified ViPR Trainer
Certified Parkour Fitness Specialist by ADAPT (Parkour Generations) (TH-1013-005)
Certified Power Plate Level 1 trainer
Certified Trigger Point Performance Therapy Ultimate 6 specialist
Certified Barefoot Training Specialist by Evidence Based Fitness Academy (EBFA)
Completion of Functional Range Conditioning (FRCTM) by Dr. Andreo Spina
Trained in Self-Myofascial Release by Equator Adventures
Certified First Aid, CPR and AED by American Heart Association
Completion of Balanced Body Pilates Matwork
Completion of Balanced Body Core Align 1, 2 & 3
Completion of GYROTONIC® Level 1 Foundation Teacher Training Course
Completion of Qigong (Yang Sheng Gong) and Taiqi (24-sequence) by Nam Wah Pai
Hobbies
Yoga Asana self-practice
Taiqi
Watching movies
Favourite quote
An effective human being is a whole that is greater than the sum of its parts. – Ida P. Rolf
Connect with our trainer here.
Read what our clients say about us >