Poh Ying Bin
Head Trainer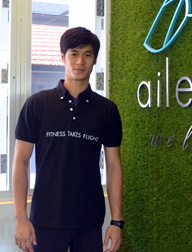 Ying Bin deeply believes in the need for good movement in restoring functionality after having to deal with a multitude of injuries and issues in his life. He is a firm believer that everyone is entitled to live without unnecessary aches and pain. Through his unconventional training methods which blend several schools of thought and constant education, he hopes to improve the quality of life of every individual he meets.
Specialisations
Injury Rehabilitation
Golf Fitness
Core Conditioning
Certifications
Human Motion Associates Mentorship
Institute Of Motion Mentorship Level 1
Functional Movement Screen Level 1
Fascial Stretch Therapy Level 1
Rehab Masterclass Certified
Rehab Trainer Certified
Kinesiology Taping 1 & 2 Certified
The Prague School Dynamic Neuromuscular Stabilization I & II
Gray Institute Certification in Applied Functional Science
International Master Trainer Power Plate Level 1
International Master Trainer Power Plate Golf Academy
Master Trainer Trigger Point Performance Therapy Ultimate 6
National Academy of Sports Medicine Corrective Exercise Specialist
National Academy of Sports Medicine Golf Fitness Specialist
National Academy of Sports Medicine Women Fitness Specialist
Precision Nutrition Certified Coach
Stott Pilates Certified Pilates Matwork Level 1
Anatomy Trains for Movement Specialist
American Council on Exercise Certified Personal Trainer
SMF Sports Climbing Instructor Cat 1
Standard First Aid & CPR
Connect with our trainer here.
Read what our clients say about us >