Lee Kai Ying
Yoga Teacher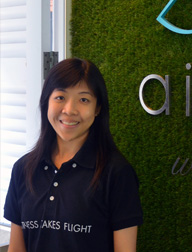 Kai was first inspired to practise yoga in 2005 when she witnessed her mother, who is 30 years her senior and a yoga practitioner, bending like an elastic band. Impressed, she hopped onto a mat too, and in a bid to further her interest in yoga, she embarked on an instructor course with a world class yoga university in Bangalore, India. Having felt the benefits of yoga while working under the demanding corporate environment, and inspired by her life experiences, she looks forward to spread the joy and goodness of yoga to all around her. Being passionate and approachable, she is ever-ready to share her energy with all around. Besides practising yoga and writing, she indulges in reading, drawing, photography, and most challenging of all, spacing out, for that's when the creative mind unveils itself.
Specialisations
Certifications
Vivekananda Yoga Anusandhana Samsthana (VYASA) – 200-hour Yoga Instructors' Course
VYASA, India – Advanced Yoga Retreat
Standard Adult First Aid
Singapore Heart Foundation CPR + AED Certified
Connect with our trainer here.
Read what our clients say about us >