Dominic Lim
Functional Training Specialist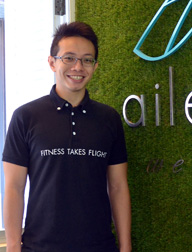 Dominic inspires people to improve their lives through exercise and diet. He believes there is no "one-size-fits-all" workout for everyone so he tailors his fitness programmes to the unique needs of his clients based on their medical conditions, fitness levels and demands of their daily activities. He is a strong proponent of correct posture and position to achieve maximum effectiveness of every action performed. He is committed to give personalised attention and genuine care to every client, assuring them that they are in good hands!
Specialisations
Injury Rehabilitation
Strengthening and Conditioning
Functional Training
Kickboxing
Certifications
Human Motion Associates Mentorship
Institute Of Motion Mentorship Level 1
NASM International Certified Personal Trainer
NASM Fitness Nutrition Specialist
NASM Group Personal Training Specialist
Trigger Point Performance Therapy Ultimate 6
Trigger Point Performance Therapy SMRT-CORE
Fitness Innovation – Pre and Post Rehab Certified
Fitness Innovation – Sports Injuries Certified
Fitness Innovation – Sports Nutrition Certified
Fitness Innovation – Advance Muscle & Strength Development Certified
Fitness Innovation – Functional Fusion Certified
Fitness Innovation – Training Pregnant & Post Natal Clients Certified
International Kickboxing Federation Fight Class Instructor Level 1
Thump Boxing Instructor Level 1 & Advanced Certified
Power Plate Level 1:Health & Fitness
Basic Exercise Course
Diploma in Emergency Response Specialist
Singapore Heart Foundation CPR + AED Certified
Connect with our trainer here.
Read what our clients say about us >