The Equipment
The Unconventional Equipment
Aileron Wellness offers fitness programmes with only the best and most effective functional training tools.
Power Plate
Our highly-prized Power Plate greets you the moment you step into our gym. This outstanding piece of machine is a vibrating device best known as a training accelerator, so that you can achieve your fitness goals in a shorter period of time. The Power Plate engages muscle fibers in almost the entire body, ensuring that you get a full-body workout with every session.
Go To Top
Half Rack Machine with official Olympic Weight Lifting Turf
Aileron Wellness prides itself for being one of the very few gyms in Singapore to house a Half Rack Machine boasting an official Olympic-standard weight lifting turf.
This machine consists of a MEGA half rack, which is highly-demanded by professional athletes, with an open-front design, giving users freedom of movement. The half rack is mounted on a platform that easily buffers any impact from the weights that fall on the ground. Other than strengthening and conditioning, weight lifting is useful because:
It is the safest form of resistance training (according to various studies)
It involves basically every muscle in the body
It improves sports performance
It increases bone mineral density (results in strong, healthy bones resistant to fractures)
Go To Top
Functional training tools
Besides the above, our clients will also be trained using various functional training tools, such as the TRX Suspension, ViPR, 3 Kick, Stroops and more.
For robust training programmes, our trainers also make practical use of Kettlebells, Sandbells, Bosu balls and more than 20 types of practical tools with our clients.
Go To Top
TRX Suspension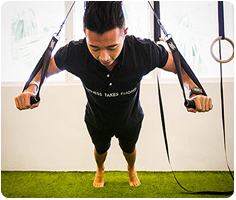 Work towards a beautiful, lean and toned body with our customized TRX® Suspension Training® sessions. Men's Health US magazine calls TRX® the "Best total body workout tool". TRX® is a revolutionary system of robes and webbing to work against your body weight making it an ideal tool for both men and women. Providing a wide plethora of fitness tools, the TRX® can be easily incorporated into any customized training programme to provide a dynamic total body workout that builds:
Strength
Balance
Flexibility
Core stability
Go To Top
ViPR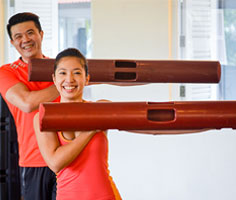 Achieve vitality, performance and re-conditioning with the new fitness tool in town - the ViPRTM. The latest fitness solution to hit Singapore, the ViPRTM is set to provide personal trainers here with an additional tool to keep customers on their fitness toes. More than just an alternative to the barbell, the key principle behind a ViPRTM programme is a blend of movements that involves lifting, shifting and twisting that helps to effectively tone and shape the body. With the ViPRTM, the intensity of the training programme can be scaled down or up to make this a female friendly workout or to cater to a caged-fighter.
Benefits of ViPR include:
Increased muscle strength and tone
Increased strength and power
Increased balance and flexibility
Burn calories and reduce body fat
Combine strength and movement training
Go To Top
3 Kick
3 Kick offers a fresh new alternative of fun while getting an awesome full body workout. It is a heavy duty commercial grade machine that will be loved by youths, kick boxers, instructors, trainers and those who just want to have fun competing with friends while getting a great workout. '3 Kick' is designed with proprietary and resilient foam pads that can be punched, kicked, slapped, or tapped with shoes or bare feet, a fist, or an open palm. A light comes on in the pad and an audible tone sounds, when the pad is hit the light goes off and randomly another comes on. The score is based on speed and more points are allocated the faster you move, making it easy to track your daily progress. '3 Kick' is simple to use, fun, and built strong for years of use.
Benefits of 3 Kick include:
Full body and hand-eye coordination
Improved reaction time, foot work, balance and mental acuity
Elevated heart rate for fat burning and cardio effect
Go To Top
Stroops
Stroops' unique programming has proven to deliver results fast in a highly engaging way. Stroops has taken resistance training to a whole new level, blending it into the functional world by maximizing human performance through a series of exercises that serves the purposes, taking into account life's demands.
Designed to bridge the gap between the Weight Room and the Playing Field, Stroops uses Slastix and body attachments to apply resistance from multiple points on the body (proximal to distal) forcing the core to engage at varying levels. Experience a different training method with our Master Trainers in Stroops.
Benefits of Stroops are:
Train athletes to perform in the playing field at the speed of sports
Engage the core in a dynamic fashion by applying resistance on the distal limbs
Maximise your performance in movements from the toes to the fingertips
Identify and strengthen weaknesses in the kinetic chain
Train to maximize transfer of speed, power, flexibility and balance into functional strength
Go To Top